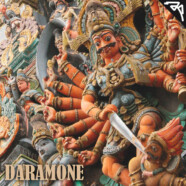 Sep

14
Tags
Related Posts
Share This
Daramone album

It's brand new and fresh, we remastered and in some cases remixed all Daramone's e.p's as a single album and it is available as a download(hi quality mp3 and CD quality .wav files with artwork) only on the Pragmazic.net platform for 6€ only(about 4£).
66% of the sale will go half to the label, half to the artists, 16,5% will go to the free music fund managed by dogmazic.net to help promote the open-licensed music scene, and the rest goes to the platform. So most of the money goes to the artist and the production unit !
You can make up your mind on line by listening to all of the tracks and if you like it why not buying the album !
It is released under a creative commons license so you can copy it and give it to your friends legally !
[audio:https://www.alphatester.com/files/2012/03/supercat.mp3|titles=Supercat (Daramone]
[audio:https://www.alphatester.com/files/2012/03/are_you_gonna_go_now.mp3|titles=Are you gonna go now (Daramone)]